How to buy a property in Spain
Investment in real estate in Spain has lately been flourishing amongst the citizens of Europe. Spanish government does not restrict the foreign purchase of commercial, residential and undeveloped land, notwithstanding the reasons behind such purchase. Favourable market conditions, reasonable prices and predominantly warm Mediterranean climate encourage potential resident or non-resident investors. However, the process of the purchase is complicated – especially when done for the first time – and there are certain steps that need to be followed in order to successfully purchase a house in Spain.
1. CALCULATING BUDGET FOR YOUR SPANISH PROPERTY
The first factor that needs to be considered while purchasing property is the budget – the maximum amount of money available to spend, as well as the ways of financing of the purchase. There are various financial options such as single payment, taking a mortgage – either in Spain or in the country of residence – or subrogation of a currently existing mortgage. Considering finances in the first place is recommended by agents as it allows you to see the maximum amount of money available for transaction – it will help you to save valuable time on viewing the properties exceeding the budget. It is necessary to fully understand that the purchase price is only one of many expenses which needs to be covered, as it depends on the condition of the house. The costs of a new construction and a second-hand property can differ. There are also costs associated with taxes, legal fees, costs of furniture or removal company services and ongoing expenditures such as insurance, maintenance and utility costs. Following these various expenses, an experienced currency specialist should be involved as early as possible if the transfer involves the use of currency other than Euro. This is to ensure that the currency exchange rate will work in favour of the buyer.
2. FINDING THE RIGHT PROPERTY IN SPAIN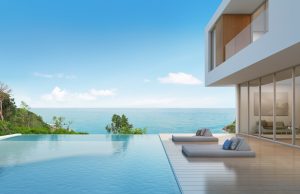 It is difficult to imagine looking for a property without information about the characteristics of a given location, such as their geographical benefits and climate. Spain is a very diversified country in terms of landscape and atmospheric conditions. Some of the regions are very touristic, while others are mostly inhabited by Spanish citizens. There is a number of elements which should be taken into consideration while looking for the perfect premises, usually depending on the aim of the purchase — whether it is bought for a residential or commercial purpose. In either case, the best idea is to visit the place and its area before the purchase. It is recommended to inquire about the property to find out who the real owner is, whether there exists an actual agreement to sell, or if there are no inheritance or tax problems or any debts attached to the property.
Permanent residence
In big cities and villages alike, there are many elements to consider when looking for the perfect place to call home. Living comfortably is one of the main concerns. The price of goods, utility services and other expenses varies from city to city, as well as employment opportunities, healthcare access and education system. The growth of the suburbs surrounding various cities has made commution necessary. It is important to examine whether an extensive and developed transport network exists as well as car parking spaces or bike lanes. There are multiple areas where the majority of inhabitants are expats as well as areas peopled primarily by the Spanish citizens. It is always a good idea to research whether there is low or high crime rate in the area and if the neighbourhood is generally considered safe. In order to understand how the every-day life looks like in a particular place, it is always a good idea to travel there beforehand and to see it for yourself.
Holiday home
Incredible summer weather and landscapes, clean beaches, great cuisine and eye-catching architecture followed by a rich history – Spain does have it all. However, the conditions depend on the region. The north of Spain is less likely to become a popular touristic place due to mild oceanic, rainy climate rather than southern Spain, parts of Catalonia or islands. While buying a holiday home – especially for rental investment purposes – it is important to focus on tourists' needs and comfort. Access to the beach or to the swimming pool, entertainment, nightlife, proximity to the local airports and developed transportation network are the key elements to consider. Any property which is not occupied all year through has an increased risk of burglary and insurance for an unoccupied shall be considered. One needs to be aware of maintenance costs, need of employing a letting agent for holiday periods, cleaning services.
3. REQUIREMENTS
There are no legal restrictions on buying the property in Spain. The government provided a simple way for foreigners to become owners of Spanish properties. In order to buy a house, it is required to obtain a Spanish Número de Identidad de Extranjero (N.I.E.) – a personal identification number. Application process might take place either after arrival to Spain (in case of European Union citizens) or from the local Spanish consulate. It is recommendable to open a bank account in Spain as soon as possible. At the latest stage of the purchase process, the final payment must come from Spanish account with the name of the new owner. The main aim of this requirement is to filter funds from money laundering. Bank account will also be useful in case of payments and expenses. It is worth notifying that the Spanish government has introduced a 'Golden Visa', which grants automatically permanent residence for those who purchased the property for the price of €500 000 or more.
4. OBTAINING A LEGAL ADVICE
It is never too early to begin searching for an independent lawyer specialized in derecho inmobiliario – Spanish Real Estate law. The lawyer will assist the buyer throughout the process of purchase and conveyance and focus exclusively on buyer's interest. Lawyer might also help with applying for the N.I.E. number and opening a bank account. Presence of a professional is needed especially at the moment of signing the documents – the capstone of the whole transaction.
5. BUYING THE PROPERTY
Once the purchase price has been agreed with an estate agent, bank or a private seller, contrato de arras – the deposit agreement – has to be signed. At this point the deposit has to be paid and the buyer would forfeit it if he or she would then withdraw from the transaction. The consequent contract required to be signed before the Spanish Notary is the title deed. On the completion day the taxes have to be paid and property should be registered. From this moment on the buyer is the owner of the house and no one can claim the right to his or her property. Although it seems that Notary fully protects the buyer, it is recommended to use the lawyer to check accuracy of documents and in case of due diligence. Nonetheless, all documents and contracts should be translated by an independent translator for those who are not familiar with Spanish.
Purchasing property abroad is a lengthy and sometimes complicated process which might seem daunting. A number of factors need to be considered: those include weather condition, available facilities and the affordability in certain areas. The whole process requires a significant effort, time and budget to finalize the transaction. However, irreplaceable help of professionals makes it easier for the buyer. It is the only possible solution in order to avoid fraud, complications and misunderstandings – especially while faced with a different legal system in a foreign country. However, we can assure you that all this effort will eventually pay off once the perfect property will have been purchased and the new life of its owner in Spain will begin.
Write us now and tell us which property you would like to sell or to buy.

📞(+34) 644 980 290